80% of concussions don't seek medical attention1
Hit your head? How bad is it?
Head knocks that result in symptoms are called concussions.
30% of concussions have ongoing symptoms2 ,3,4
It's important that concussions are detected early and treated appropriately.
HeadCheck will help guide when your child is ready to return to school/play/sport.
1 Kirstin Weerdenburg et al Paediatrics & Child Health, Volume 21, Issue 3, 1 April 2016
2 Roger Zemek et al JAMA Pediatr. 2013;167(3):259-265
3 Karen Barlow et al Pediatrics August 2010 Volume 126
4 Lynn Babcock et al 2013 JAMA Pediatr. 2013;167(2):156-161
Top facts to know about concussion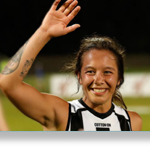 About concussion
A concussion is a type of mild head injury. It happens when the head gets bumped, which causes a short-term change in how the brain works.
You don't need to have lost consciousness to experience a concussion.
Children typically take longer to recover from a concussion than adults.
Concussion symptoms can take up to four weeks to go away, and sometimes even longer. But for most children, symptoms improve within several days.
Signs and symptoms of concussion
Physical symptoms of concussion include:
headache
nausea and/or vomiting
blurred or double vision
sensitivity to light or noise
dizziness and balance problems
drowsiness, fatigue and sleep difficulties
Thinking and remembering symptoms of concussion include:
difficulty concentrating
slower reaction times
difficulty remembering things, or even forgetting things altogether
feelings of being 'in a fog' or 'slow'
Emotional and behaviour symptoms of concussion include:
greater irritability than usual
anxiety
changes in mood like being sad or even depressed
Our research has shown that,
Over 70% of parents don't recognise the severity of concussion even if they were at the game
1 in 5 were not immediately removed from play following the head injury
Less than 10% of parents were aware of concussion or return to play guidelines used by their sporting organisations
27% were not assessed by a qualified person
It's important to get the balance right when managing a child's return to school, training and games
Prof Vicki Anderson PhD
Head of Psychology, Royal Children's Hospital Mental Health Theme Director, Clinical Sciences Research, MCRI
Franz E Babl
MD MPH DMedSc FRACP FAAP FACEP Paediatric Emergency Physician, Royal Children's Hospital Head, Emergency Research, MCRI Associate Professor
Dr Peter Harcourt
Chief Medical Officer
AFL
Developed and designed by :

Dr Peter Barnett MBBS FRACP MSc FACEM MSpMed
Deputy Director, Emergency Department Royal Children's Hospital, Clinical Associate Professor, University of Melbourne, Honorary Research Fellow, MCRI
Gavin Davis MBBS, FRACS (Neurosurgery)
Adjunct Professor, University of Notre Dame Australia, member of the Neurosurgical Society of Australasia (NSA)
University appointments: University of Melbourne, The Florey, MCRI, Australian Football League (AFL) Concussion Working Group
Dr Audrey McKinlay
Psychologist, Traumatic Brain Injury researcher, Senior lecturer, Clinical Psychology, University of Melbourne
Adjunct Research Fellow at the University of Canterbury in Christchurch, New Zealand, Honorary Fellow MCRI
Dr Ali Crichton, PhD
Research Officer, Senior Clinical Neuropsychologist Clinical Sciences Child Neuropsychology, MCRI
Katie Davies
Principal Physiotherapist, Neurological Rehabilitation Group, Honorary Fellow, MCRI
Michael Takagi PhD
Senior Research Officer, Clinical Neuropsychologist Clinical Sciences Child Neuropsychology, MCRI